After the recent CCA changes for Freight Forwarded goods and mandatory electronic entries, several software vendors changed their software around handling these entries to come in line with the Customs TSW EDI specification. No change was required on Prodoc as we had been in line with the EDI specification as of April 2018.
At this time, the Port of Tauranga stopped sending the entries to the correct wharves for loading. It was discussed they would release a new update to their system to determine wharves based on the ship location for container loading but this isn't going ahead.
Following this, they started requesting that the Location of Goods codes (CCA) codes start being sent to specify the wharf for loading containers at Mt Maunganui wharf. However this did not follow the TSW EDI spec and we were hesitant to make this change as it would mean that TSW entries being submitted from Prodoc were not valid submissions as Location of Goods codes are to be used in these circumstances:
Air and Mail – Must be transmitted to state the Cargo Terminal Operator / consolidator / freight forwarder responsible for export loading

Sea – Must be transmitted to identify where the goods are to be delivered for export loading by a consolidator/freight forwarder. Not required when goods are delivered direct to the Port

This code will be used as the notify party for delivery authorisation by the Border Agencies."
Customs followed up with us and advised that a future release of TSW would make Location of Goods codes mandatory in all circumstances. Where it was a Sea Freight shipment, the Location of Goods code would be the Discharge Port Code except for Tauranga Port, for which the CCA code will be required for shipments from Mt Maunganui wharf.
We haven't yet been advised by Customs when this change will be applied, however NZ Customs held a Customs TSW presentation confirming this change although there hasn't yet been an official notification or a change to the EDI specification.
Change in Prodoc
In advance of this, we have now discussed and designed how this change would look in Prodoc and for those who need it in advance of the change being official we will soon be able to apply the message side of it (the actual field names in shipments will require an update). We will update this post when we have a change we can apply.
The change itself will be as follows, within a shipment, Freight Forwarder will change to Freight Forwarder / Location of Goods and Packing / Stuffing Location will change to just Stuffing Location. If you need to override a Location of Goods for a containerised sea freight shipment you will select it from what is currently the Freight Forwarder dropdown.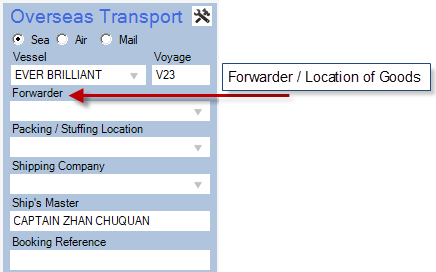 Within Shipping Locations / Contacts, Freight Forwarder will be updated to Freight Forwarder / Location of Goods and Packing / Vanning / Stuffing Location will change to just say Stuffing Location. To add a new Location of Goods it will simply be a case of adding what is currently a Freight Forwarder, naming it accordingly and filling the field "Customs Code" with the CCA code (eg this will say 8590B for Port of Tauranga – Mount Wharf ).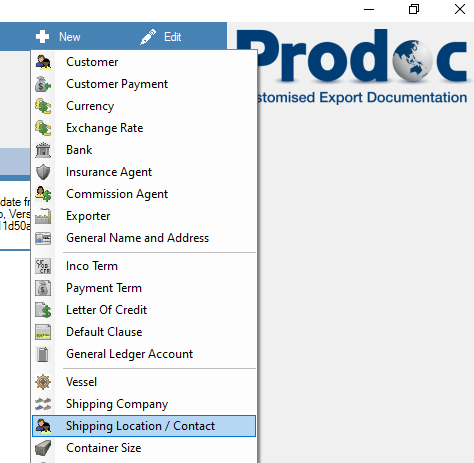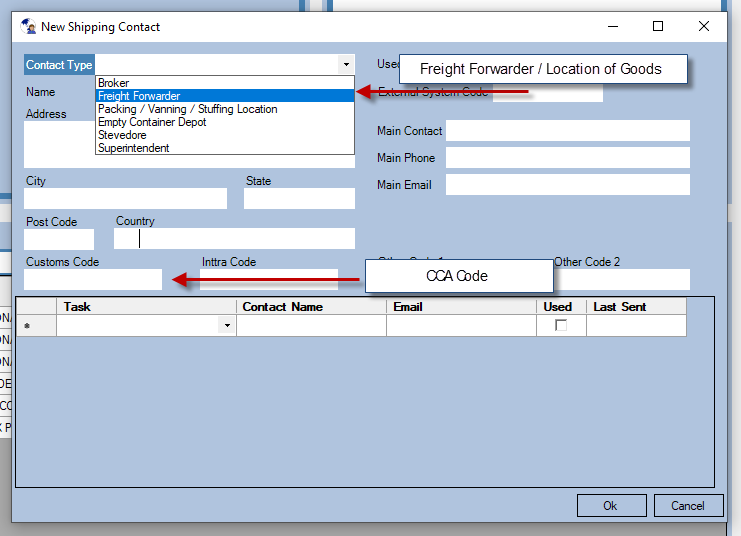 The actual rule on the message will change:
If a Freight Forwarder / Location of Goods is selected, it will send the Customs Code within its record.
If the shipment is not an Air Freight and no Freight Forwarder / Location of Goods is selected, it will send the Port Code as the Location of Goods.
If the shipment is Air Freight and no Location of Goods is selected nothing will be sent and the entry should be rejected.
As a result, you can now start adding (but not using) Location of Goods codes without Update. Please use the Freight Forwarder Selection. An update, when available, will perform name changes and alter the Customs TSW message with the rules above. If you need this change prior to the update being available, please contact us and we can apply it once it has been written, charges may apply for this.