Where you can use this feature
Saving form defaults is used on forms with editable fields that are shown in blue.  The below Bank form is a great example with lots of editable fields: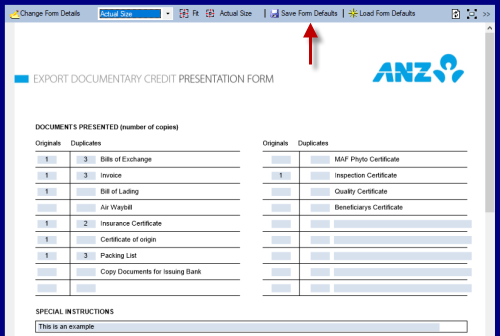 How to Save/Load defaults
To save any defaults that you have entered against the form click the Save Form Defaults button along the top of the form, you should be presented with the below box. Setting defaults against the customer will take precedence over any defaults set against the exporter, and setting defaults against the exporter will take precedence over those set against the form.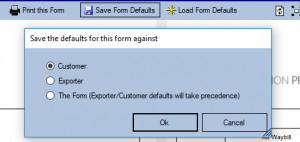 When you add this form to a new shipment, or add this form to an existing shipment it will apply whatever defaults have been set according the the precedence above. If you wish to remove the defaults, clear the changes you have made then override the relevant defaults again.
You can also force Prodoc to reload the defaults against a form if you have made changes to it by clicking Load Form Defaults button.