Prodoc 3 allows a user to combine shipments, that is you can select one shipment to act as a master shipment (retains information under details screen) and multiple shipments to import their products/containers.
When you combine shipments, all original shipments are unmodified, and Prodoc will create a new shipment based on the information in the shipments selected to be combined.
Below I have included 2 images showing the example shipment we are using as a master, and the product screens for the 3 shipments we will be combining.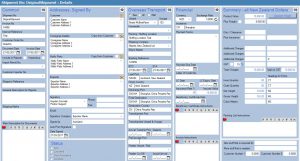 To do this we need to select the shipments we wish to combine by highlighting them in a search panel. We can do this by selecting them from any of the standard search panels (Recent Work, Summary, Advanced Search) by holding the Ctrl key and clicking on the grey box to the left of the shipment, once we have highlighted multiple shipments we can right click anywhere in the highlighted section and left click combine.

We will then be asked to select a master shipment (the one that is used as a basis for the information under the details tab) and to specify a new shipment number for the new shipment we are creating. Once we have entered this information click OK and it will create our new shipment.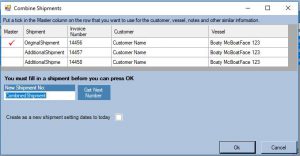 Our newly combine shipment should combine some of the fields under the details screen as per the highlighted fields in the screenshot below.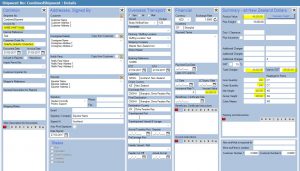 It will also combine the products and containers as per the below screenshot.