Installing Prodoc III after version 3.4 is a relatively simple affair and can be performed in as little as a minute. There should be no further configuration required outside of the main install.
What it needs
.NET 4.6.2
All other prerequisites are included on the installer
Prior to the Prodoc client installation, the Prodoc Installation folder will be shared, and named "ProdocApp", to enable client computers to access it on the network to be able to install the Prodoc client.
The Install
The standard Prodoc server installation folder has the Prodoc install file and is located as per the below path:
\\[prodocserver]\ProdocApp\Prodoc III Setup.exe
Run Prodoc III Setup.exe contained in the Prodoc server installation folder, using the location above
You may encounter this security dialogue above, click run to continue the install.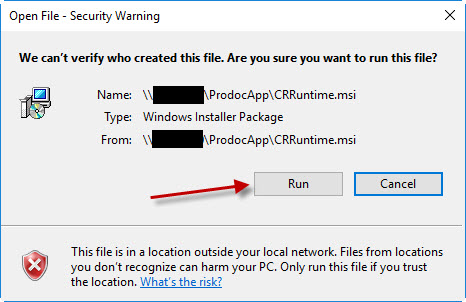 Select the Setup Type depending on your environment, and Crystal if you use reporting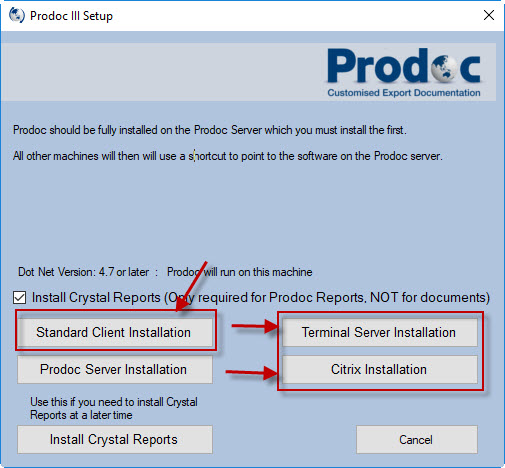 You may encounter a security prompt, Click Run to proceed.

If Crystal Reports is already installed on the computer then Click Reinstall.

If Crystal Reports is not installed, the installer will open.




Once Crystal Reports has installed, Click the Exit button.

A desktop shortcut may or may not be installed (depending on your environment). If it is not, the shortcut will be available in the Windows Start Menu.
Click on the Prodoc shortcut and Prodoc will configure itself and open. If this does not happen then contact Prodoc Support for assistance.

What it does (for IT troubleshooting)
As of version 3.4, the Prodoc installation places two files in the %ProgramFiles[x86]%\Prodoc Ltd\Prodoc Customised Export Documentation\ location. A gateway file that performs redirection and version checking, and a configuration file pointing to the database.
The local shortcut points to this location which checks the version against the server version. If it doesn't exist, it creates a folder in the running user's %AppData% with the server version number and copies the required files from the server's shared folder.
If it does exist, it runs ProdocMain.exe from the local instance and does not delete the older versions in case of rollback.
The user is required to be able to read and copy-locally files from the server location, and run applications from %AppData%.