The Important Information Panel is a section intended to bring forth shipment fields and panels that are useful to your business and remove focus from the overwhelming array of fields your company rarely or doesn't use at this time.
It is simply a user configurable section where you can place fields that you use from the Details screen into a single location and set criteria for when they show.
How to configure:
When you first open a shipment, prior to adding fields to the panel it will not exist. The Important Information Panel only shows if there are fields contained.
Upon adding a field, it appears and shows the relevant data you have added, adding a field is as simple as right clicking on the header of a desired field and setting the criteria for when it should show, you will then get a direct representation of the field within the panel and filling one will fill the other as can be seen below: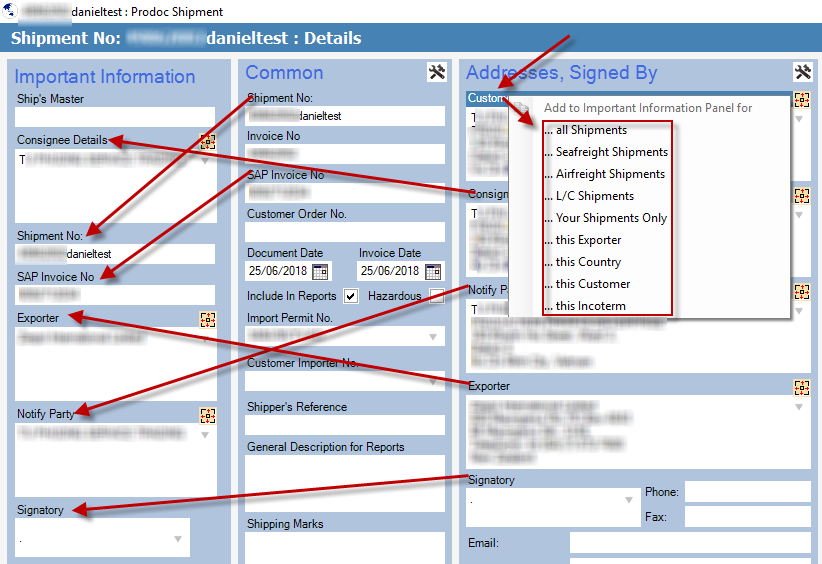 This serves two purposes, the first is that it centralises the fields that are important to you so that you needn't scroll through those never used and the second is that the criteria set allows you to further narrow the fields so that they only display when they are relevant.
Setting Criteria:
When adding items to the Important Information Panel (Right Click the origin field header) the criteria you can select are directly representative of fields on the shipment. For the most part you will likely set panels to show for all shipments, however you can also go to a finer level and specify things like 'Only show when the shipment is sea bound' which looks at the radio selection on the Overseas Transport panel and if set to Sea, will display then. This can be useful for fields such as Vessel or Voyage, whilst AirFreight criteria would be set for MAWB numbers etc: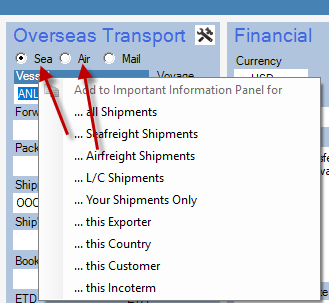 Other examples could be that you can also set items for 'Your Shipments Only' or 'This Customer' for specialised input (or if you want your own Important Information Panel, rather than a global one which the other fields will apply to).
Modify Important Information Fields:
Finally you are able to move and remove Important Information Panels as required, this is done the same way, right click on the field header on the Important Information Panel and you will be able to adjust.